The best way to learn pole is in our 6-week courses. Our Level 1-9 courses include a mix of pole tricks and choreography with the content building on itself each week until you have a full pole routine! The tricks progressively increase in difficulty from one level to the next, helping you to build your strength and flexibility in a safe way!
One of the things we love about pole dancing is how diverse it can be! At The Pole Gym, we embrace all different styles of pole dancing and encourage you to try them all before picking your favourite. Our Level 1-9 pole courses embody this! Each level is a different style of pole dance! From sexy, to hip hop, to latin, jazz, contemporary and more! You might just find you fall in love with a style you never expected!
All of our pole courses include:
Secured place in your weekly course class with a pole to yourself
Unlimited training time in our designated practice area
Extra help from our instructors during Course Help & Catch Up times
Access to the equivalent level course on other days (subject to pole availability)
You also get a "3 for FREE" casuals pass if you book into a Level 1 course. Use for 3 in-studio or online casual classes.
If you haven't started pole yet, Level 1 is the place to be! If you are joining us with prior pole experience, contact us for a free level assessment.
Level 1: Sassy Style
Our Level 1 courses are designed for people who have never done pole.  We focus on your first climbs and spins – everything you need to know about Beginner's pole dancing.  The sassy-styled dance routine is so much fun to learn and Level 1 is suitable for all fitness types with no level of dance experience required. Level 1 includes access to studio for training and a "3 For FREE Casual Pass" so you can see everything we have to offer! Book online!
Level 2: Jazz Style
Focus on building your strength and furthering the tricks you learned in Level 1. Includes pole tricks designed to get you accustomed to letting go of the pole in preparation for later levels; combined into a fun routine full of attitude – Level 2 will certainly build your endurance and is lots of fun.
Level 3: Contemporary Style
A contemporary routine that will have you climbing higher on the pole and introducing inverts into the performance. This level is a great bridge between lower and intermediate levels of pole. Focus on slow, controlled pole tricks and movement in a contemporary inspired routine that builds on the technique. Find your flow, lines and grace all while building strength and toning.
Level 4: Sultry Style
Time to embrace that sexy, sensual style of pole dance, all while increasing the difficulty level of the pole tricks with your first layback and more.

Level 5: Latin Style
High intensity, Latin flavoured – and those tricks are getting trickier! Level 5 includes your first leg hangs amongst other new challenges.

Level 6: Hip Hop Style
Elbow stands, butterflies and your first 'drop' tricks are some of the challenges you'll find as an upper-level intermediate poler. Combining these with the hard-hitting Level 6 choreography increases your pole stamina.
Level 7: Earthy Contemporary Style
Aerial inverts, leg hang changes, superman combos and dynamic spins all integrate with powerful 'earthy' contemporary movement to build your strength, choreography skills and stamina as you build towards graduation

Level 8: Showgirl Style
Shoulder mounts and dismounts, caterpillar (upside down) climbs, Jade split and plenty more! This level will have you hair whipping and high kicking with the best of them! This routine is written to be performed in heels.
Level 9: Contemporary Style
A contemporary style routine that allows you to showcase all the strength and technique you've built as you work towards graduation to the Grads Program! Tricks include reverse entry handspring, brass monkey, aerial shoulder mount and aerial foot press!
Grads Foundations:
Grads Foundations continues to build on the skills and techniques mastered through the Level 1-9 program. Learn new variations and trick combos which may include:
Handspring variations
Brass monkey variations
Inside leg hang trick variations
Foot press variations
Tricks that use grip variations like cup grip, t-rex grip, football grip & shotgun grip
Tricks will be put into a choreographed routine. Each term's routine is different and can be a range of styles, from contemporary, to sensual, to rock, to cabaret and anything in between!
Prerequisites: Level 9 (or equivalent). Must be confident in aerial shoulder mounts, aerial inverts, brass monkeys, and twisted grip handstands.
Grads Tricks 1, 2 & 3:
Tricks only courses focused on lower to higher advanced pole moves.  Rather than focusing on finishing a level then moving up, these are programs designed to keep you challenged working on tricks suited to your level of strength, flexibility and endurance. Your teacher will let you know if they feel you'd be better suited to a more advanced group whenever the time comes, but in the meantime, you'll have plenty of content to keep you inspired and motivated. As a general guide, a student moving from Grads 1 to Grads 2 will be performing moves suitable for local amateur level pole competitions, while a Grads 3 student will perform tricks suitable to enter a state level amateur competition.
Grads Show:
At The Pole Gym, we feel it's very important that students continue to develop their dance and performance skills, rather than simply working on pole tricks.  All Graduates level students are encouraged to enrol in our 12-week pole show courses that are the feature performance at our studio show nights.  Unlike Levels 1-8 that are set routines with everyone performing the same pole tricks, Grads Show courses include feature pole trick sections that allow the student to showcase the pole tricks and combinations they are best at.  The Show itself can range from a non-themed choreography piece, through to themed and costumed choreography, through to character and plot based shows, through to pole theatre.  We pride ourselves on the creativity of our shows and invite you to be part of them as a Grad student or to come and watch them at our show nights.
We are proud to offer Lyra (Aerial Hoop) and Tissu classes in our beautiful air-conditioned studio in the heart of the Brisbane CBD! Our 6-week courses are the best option for learning and perfecting your technique on these aerial aparatus!
Our Aerial courses are designed to be repeated four times before progressing, but everyone's aerial journey is unique so please talk with your instructor before you book to confirm the level that suits you best. If you are a new student to The Pole Gym but have prior aerials experience, please speak with reception to book a level assessment.
Lyra (Aerial Hoop) Courses
Lyra Level 1: Start at the beginning with Level 1, designed for those brand new to lyra! Develop your fundamental lyra skills in a fun and supportive class that helps you build strength, flexibility and aerial repertoire.
Lyra Level 2: In Level 2 Lyra you'll continue to expand your knowledge and work on more intricate transitions while continuing to build strength and aerial awareness. Start exploring tricks above the lyra too! Pre-requisites for enrolling in Level 2 Lyra are:
 Split grip (aka straddle invert) to one knee on the bar safely and independently (without spotter)
Able to hang by one knee x 3 reps in a row (with spotter) –
Confident with hanging in top hocks, and able to return to the bottom bar safely and independently
3 x swan pullovers, safely with minimal assistance (feet allowed)
Lyra Level 3/4: Grow your Lyra skills repertoire and begin to learn dynamic moves and introductory lyra rope tricks. Suitable for students who have completed four terms each of Level 1 and Level 2 Lyra, or equivalent. Pre-requisites for enrolling in Level 3/4 Lyra are:
Able to tuck under bottom bar safely with no assistance (feet allowed)
5 x swan pullovers, safely with minimal assistance (feet allowed)
Confident working above the lyra; gazelle; & drop to one knee
Able to do 2 mins continuously on lyra
Able to beat to sit
Beginner Lyra Choreo:  Over this course you'll learn a routine that showcases your beautiful aerial hoop tricks. Recommended for students who have completed at least three or more Level 1 Lyra Courses (or equivalent).
Lyra Choreo: Over this course you'll learn a routine that showcases your beautiful aerial hoop tricks while building stamina and learning creative choreography techniques. Each term is a different style – from contemporary to rock, cabaret and everything in between! For students who have completed at least three or more Level 3/4 Lyra Courses (or equivalent).
Tissu Courses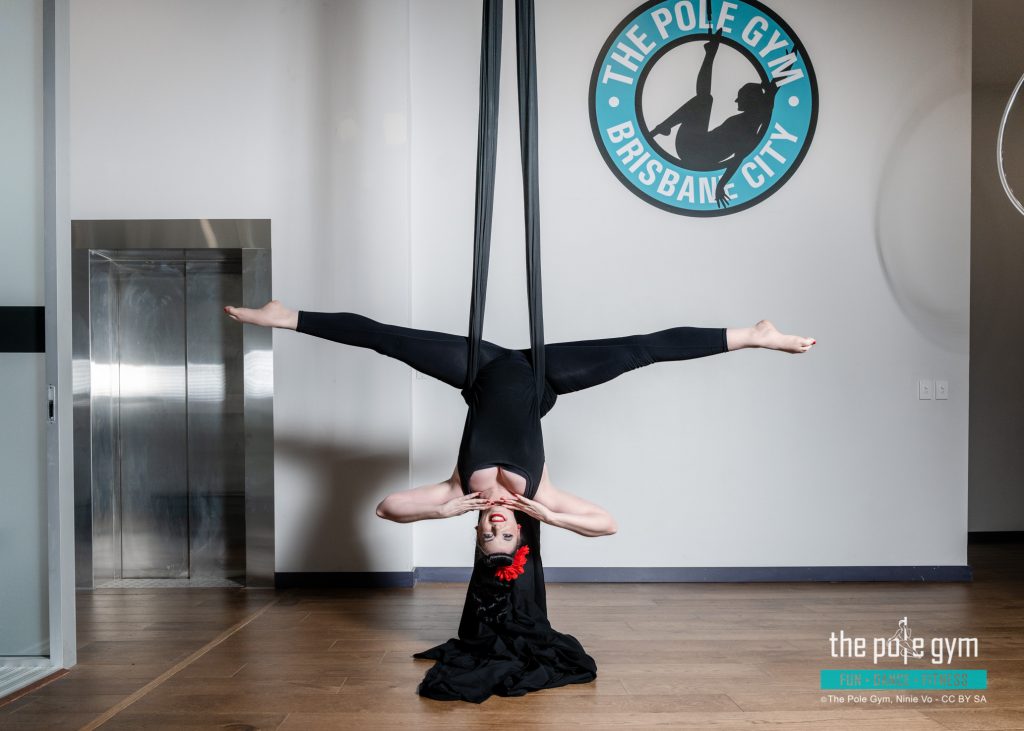 Tissu Level 1: Start your Tissu journey here! Learn how to safely execute foundational moves like climbs and foot locks plus some insta-worthy poses! Remember to bring leggings!
Tissu Level 2: Progress your foundational skills and gear up to learn longer combos and drops! This course is suitable for students who have completed four terms of Level 1 Tissu or equivalent.
Specialty Courses:
We're all about offering our students variety at The Pole Gym, so on each timetable, you'll find new speciality courses, although due to time/space constraints, not all of the specialty courses listed below will be on each term's timetable. Please contact us for more info on any courses you see on our timetables that aren't detailed here.
Stretch Course, Need that extra push with your splits flexibility? Our Splits Stretch Course is the place to be! We will lead you through a range of different split stretches to help get your splits flat – or move to over splits!
Contortion, This course will introduce you to the art of contortion.  Learn how to safely and effectively increase flexibility across your whole body to eventually bend into awe inspiring positions!
Handstands, Designed to work towards the perfect handstand, you'll work on specific drills to gain the balance and strength required to hold a perfect handstand. All Levels welcome (everyone has to start somewhere!).
Inverts: Suitable for Levels 4 and above (must have learnt to invert) Whether you're new to inverting or looking to refine your technique there is something for everyone in this course. Includes strength building exercises and injury prevention tips to keep you inverting safely for years to come!
Spinning Pole Courses:
A spinning pole is where the pole keeps spinning using ball bearings, driven by your momentum.  Our Levels 1-8 program is static pole focused, but we have a range of spinning pole courses available for students to develop spinning pole skills.
Spin 1 (Beginner): Start from the very beginning and learn the in's and out's of spin pole! You'll start with basic climbs and sits and how to control your speed as you spin. Suitable for level 1 and above or those who are new to spin pole.
Spin 2 (Beginner/Intermediate): Moving into slightly harder tricks and combos. In this level we work on safely going upside down (inverting) on the spin pole, controlling momentum and putting our tricks into longer combos! Students should have completed Spin 1, Level 3 or equivalent.
Spin 3 (Intermediate/Advanced): Now you're comfortable inverting on the spin pole and getting stronger you're ready to take your tricks to the next level! You must be strong in your inverts, leg hangs and laybacks on the spin pole to participate in this course.
Spin 4 (Advanced): This course is sure to challenge those who are ready to spin it until they win it! Must be confident with aerial inverts, shoulder mounts and brass monkey to participate in this course (suitable for level 8 and above).
Please contact us to find out which spinning levels are running in our upcoming intake and take advantage of the discounts offered to combine these courses with a static level course in the same term. We strongly recommend that all of our pole students take a spinning course every few terms as they move up through our static pole levels.
Seductress Courses & Workshops: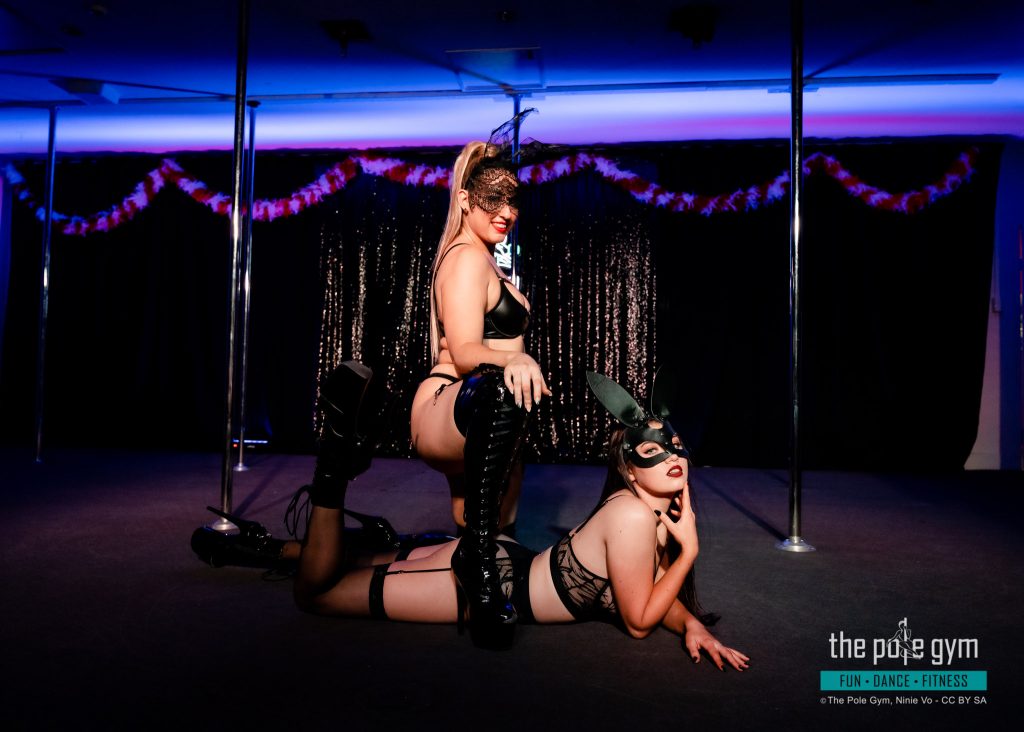 Our Seductress courses (and our casual Dance Dirty classes) delve into the fun, sexy, cheeky, slinky, sensual, naughty, feminine elements of pole dance.  We run many different types of Seductress courses & workshops including:
Seductress Pole Dance This course is for those looking to embrace the sexier side of pole dance. Learn a sensual routine that shows off your best assets. Generally suited for all levels, but check with reception to see which routine is running!
Seductress Chair Dance, Let's get sexy! In this course, you'll learn a full routine where the focus is all about seduction using a chair as your dance partner! This course is perfect for those who want to finesse their sensual style and build confidence! Suitable for all levels!
Seductress Lap Dance, Master the art of seduction and learn a sexy lap routine to perform for that special person in your life – or just do it for yourself for fun! Throughout this course you will learn a fully choreographed routine that's sure to spice up your week! Suitable for all levels
Booty Course, Have fun and work up a sweat while you learn how to shake, pop and twerk your booty! You will learn a fully choreographed routine with your best asset being the main focus! Suitable for all levels.
Exotic Pole, This style thrives on technical difficulty. Exotic is about wowing the audience with complex base work / low flow, deceptive strength work, and crazy transitions. Moves that are sexy by virtue of their 'holy hell' quality. Leg traces and threads, power spins, and accented tempo changes makes for one hell of a routine!
Please contact us to find out which Seductress courses or workshops are running in our upcoming intake and take advantage of the discounts offered to combine these courses other courses in the same term.
The Pole Gym Casual Classes are a great way to compliment your progression in your pole course – or as a general fitness alternative to the gym!
We can't run all the casuals you see below every term due to space/time constraints, but we do our best to get as many on each timetable as possible! If there's anything new on the timetable that you don't see a description for here, please ask us about it!
Pole Newbies (Beginner Trial Class): An introductory pole class open only to those who haven't done pole before – you'll learn a couple of basic moves and get an idea of what it's all about!  If you can't make the times listed, we can easily arrange something for you, just get in contact with us!
Pole Dance: A casual pole dancing workout class for all levels. Learn a different pole routine in each class. The focus is on dance and the main aim is to jump in and give it a go! Different song styles each week ensure you won't get bored.
Dance Dirty: A casual class dedicated only to sexy styles of music and dance. Sometimes it is seriously sexy, sometimes slow slinky and sometimes silly and funny. Come and see what it's all about! Heels and kneepads recommended.
Dance Dirty FUNdamentals:  This class focuses on the FUNdamental Dance Dirty moves (like your first body rolls or pivots) and incorporates them into a short pole routine! Perfect for anyone brand new to pole/dance choreo and Level 1 students.
Pole Trick Conditioning: Use your pole tricks as conditioning exercises to strengthen and perfect your technique! Complimented by off the pole exercises to give you an all round work out!
Pole Tricks: A casual tricks class where you work on perfecting tricks from your courses, and learn fun new ones! This is a mixed level class. We recommend students finish a Level 1 course before starting this casual.
Exotic Bootcamp: A conditioning class with exotic pole elements. Build the strength and stamina required to perfectly execute exotic floorwork moves! Heels are highly recommended for this class.
Abs, Butt & Thighs: This is a general fitness class that's all about targeting those abs, butt and thighs! We recommend using a yoga mat and a towel. No pole required.
Booty Pop: Stop, drop and pop it out to the bounciest booty-licious tunes each week. Work up a sweat while working those glutes and quads!
Circus Circuit: A circuit style class focused on building upper body and core strength for both aerial and pole. Improve your hand and knee grip, arm strength, inverts and stamina using exercises incorporating the Tissu, Lyra, pole and wall bars.
FlexStrong: It's flexibility, but not as you know it! This class combines PNF stretches and active flexibility drills to boost both passive and active flexibility while improving strength and tone. Definitely not a relaxing stretch class!
Intro to Acro: An introduction into basic acrobatic elements and balance poses, usually performed in pairs or as a group. Handstand beginner basics drills, exercises and conditioning to help with early handstand development and progression. Great for students who are new or learning handstands, who want to try some paired partner balance and for something fun and different!
Lyra: Get your Lyra fix without having to commit to a full course! Practice tricks you've learnt before of learn something completely new. Suitable for beginners.
Sculpt: A general fitness class geared towards building strength and endurance required for pole dancing and aerials!
PoleBarre: PoleBarre incorporates the strength and power of Pole Fitness and the grace and flow of dance. The class is a total body workout improving balance, alignment and muscle tone. The exercises culminate into a dance routine building skills and self-confidence to perform with style.
Pump Up The Jam! This high intensity, dance based cardio class is like a rave party in your own living room! Bounce your way through easy to follow dance sequences and have such a Goodtime you won't even notice it's a workout! Glow Sticks optional. No Pole required!
Pilates: A challenging full body work out using Pilates principles to help build strength for pole tricks. Perfect for those looking for more conditioning training!
Showgirl Flair: Release your inner showgirl with this Bob Fosse style inspired casual class! If you have seen Chicago, you know this style! Gain the strength and flexibility needed for showgirl style! Think back extension, leg extension and balance, plus floor work (with flair!!) Learn classic simple foot work sequences to finish with a short choreo routine utilising the content from class!
Stretch: Let us guide you through a range of different stretch techniques to improve flexibility across your body. Suitable for all levels
Flow Strength & Stretch: Join us in this flow based stretch and strength class designed to help rid stress and anxiety and increase general mobility. Through a series of movement sequences, we concentrate on breathing to calm the mind, release muscle tension and gradually improve strength and mobility.
Floorwork: Make some space and work on perfecting your exotic floorwork technique and learn a new seductive floorwork routine each class! Heels and kneepads recommended but can be replaced by socks. Suitable for all levels!
Soul Pole: Connect your body, mind and soul in this fluid-style pole dance. This class builds on freestyle skills, where the routine is spontaneously made with student contributions in a safe and encouraging environment. Using music as the driver find new ways of moving that make you feel wonderful, increase your body & movement awareness, and enhance your performance skills. Suitable for all levels
Dance Tech: In this class you will learn to fly high using foundation dance technique and travelling combinations incorporating kicks, jumps & turns. This is a fun class that will work on different dance tricks suitable for all levels, no pre-requisites required. These tricks and spins can be used for all styles of dance and pole routines. It feels amazing to nail these moves and will improve your dancing fast. Leggings and socks are a great idea to wear to help slide, glide and turn on the floor.