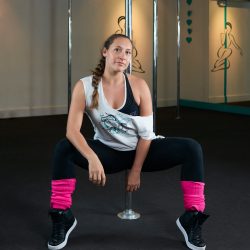 Alex
In 2014, Alex finished her instructor training and started teaching The Pole Gym after being a student since 2011.  One of our most loved teachers who is friends with everyone, Alex started dancing very young in Hungary.  Her dance background was first in jazz, then moving on to ballroom and then hip hop which led her to perform with dance crews and in theatre productions.
What can Alex be found doing most often at the studio? I have a huge passion for dancing and grooving! I love taking dance classes on and/or off the pole. My favourite style is hip hop – Urban Pole – however, I do enjoy teaching jazz & contemporary style as well.
What does Alex love most about being a teacher at The Pole Gym? I consider it a great honour to be a teacher at my favourite studio!! It's super rewarding to see people starting out as level 1 students and in a few short months developing skills that they never thought they could master. I usually teach beginner classes and casual classes. I especially enjoy teaching the fitness type casuals and dance classes that The Pole Gym has to offer.
What is Alex's number one reason you should join The Pole Gym Brisbane City? I honestly think pole dancing is one of the best ways to forget about the stress or problems of everyday life. Our studio has a friendly, fun environment with people being very supportive of each other.
What is Alex's tip for when you're just starting out? Just try it 🙂 You gonna love it! It's not just another gym – pole buddies are for life!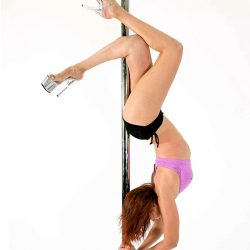 Celia
Celia was a student with The Pole Gym for years before venturing into the world of instructing, which she loves almost as much as her students love her! Originally, Celia started pole to challenge herself with something new while taking a break from another sport, and then never left! For Celia, one of the best things about pole is that no matter how much you learn, there is always something new or something that will surprise you.
What can Celia be found doing most often at the studio?
I enjoy all styles of pole (sport, artistic, theatrical etc.) but have always had soft spot for classic, a.k.a 'sexy', pole and can often be found teaching our seductress courses and chair routines. I love how it can make someone feel amazing and fearless in their own skin.
I am also fond of spin pole, so you might see me helping out students to nail those pesky combos on a spinner with finesse and control (hopefully without getting too dizzy of course!).
What does Celia love most about being a teacher at The Pole Gym?
It's really rewarding to see a student accomplish something they never thought their body would be able to achieve, not to mention the looks on their faces and cheers from the rest of the class thereafter.
The confidence students gain from a sport like pole whether nailing a new trick or taking the courage to get up and perform a routine for the first time can have such a positive impact on other elements in their life and who wouldn't want to be a part of that!
What is Celia's number one reason you should join The Pole Gym Brisbane City?
It's a great atmosphere, not only to go for an amazing workout but where you can relax, de-stress or just dance it out while surrounded by supportive and genuine people.
I think it's important for a gym to have that balance that makes you feel good both physically and mentally. It's less of a struggle to get to the gym if you want to be there.
What is Celia's tip for when you're just starting out?
Take your time to learn the basics, don't judge yourself by how long it takes you to learn a trick or whether it looks perfect straight away. Everyone is different. You know your body and it's important to listen to it and go at the pace that suits you. Have fun with it. And most importantly… point your toes!! Xx
Felicity (Flick)
Felicity started her pole journey at The Pole Gym in 2017 after attending a studio performance night. She started classes the next day! Having been a dancer for most of her life Felicity is highly skilled in a wide range of styles including ballet, jazz, tap, hip-hop and contemporary dance. A gifted performer with a natural talent for pole tricks, Felicity is a perfect fit for pole dancing and an outstanding contender on the competition circuit.
What can Flick be found doing most often at the studio?
Handsprings, my favourite thing to do is handsprings so you will always find me practising.
What does Flick love most about being a teacher at The Pole Gym?
The thing I love the most about teaching is watching my students progress throughout the term.
What is Flick's number one reason you should join The Pole Gym Brisbane City?
The Pole Gym is such a fun and friendly environment. Everyone is super supportive and always willing to help out.
What is Flick's tip for when you're just starting out?
Don't give up, it is hard and it takes time to get tricks. So just keep practising.
Jamie
Jamie is originally from Wisconsin, USA and has been living in Brisbane since 2017. She began dancing ballet at just 2 years old and has since studied jazz, contemporary, Latin, African, lyrical, flamenco and now pole! Jamie has taught dance in 5 countries: The USA, Costa Rica, Egypt, France and Australia. She was first inspired to try pole after going to a pole and lyra show with her brother in New York City.
What can Jamie be found doing most often at the studio?
Working on choreography!
What does Jamie love most about being a teacher at The Pole Gym?
I really love teaching Newbies classes because students often come in a bit nervous and they leave feeling really accomplished and fascinated by pole. In the courses and casual classes I enjoy the challenge of explaining movements to different kinds of learners. We all learn in different ways, so I try to explain the tricks and moves in as many different ways as I can. It's amazing to see when something really clicks for a student.
What is Jamie's number one reason you should join The Pole Gym Brisbane City?
The sense of community is fantastic. It's a wonderful slice of paradise where you can forget your worries and do something for yourself. You'll always be supported here, which is a great feeling.
What is Jamie's tip for when you're just starting out?
Take advantage of the casual classes. Try different styles and see what you like! Also, buy a pair of heels as soon as you start. You won't regret it.
Mik aka Valyn
Mik started poling at The Pole Gym Brisbane City back in 2012, after being dragged in by a friend of a friend and has never looked back since. He began teaching Lyra in 2016 and shortly afterwards began teaching pole as well. In addition to instructing he has also recently joined the competition circuit, winning the 2017 Amateur Pole Theatre Australia Comedy division with co-performer Miss Beckie and making the finals of Mr Pole Dance World 2018.
What can you be found doing most often at the studio? Anything and everything, but mostly jamming combos and helping students to troubleshoot their nemesis moves.
What do you love most about being a teacher at The Pole Gym? Watching my students' confidence grow. Pole is awesome for building not just physical strength and endurance but also boosting your confidence and self-esteem, and for me, there's nothing better than seeing my students not only nailing tricks and choreo they thought they could never do but smiling and feeling good about themselves while doing it!
What is your number one reason you think people should join The Pole Gym Brisbane City? Because pole is super fun and no matter what kind of pole you're into, there'll be an option for you!
What is your best tip for when you're just starting out? Don't get stuck in the mindset of comparing yourself to someone else – they're not you, you're not them, and everyone learns different things at different rates. If you have to compare, compare yourself to where you were a few weeks ago, or a month ago, or before you started pole – and revel in how much more of a badass you've become!
xx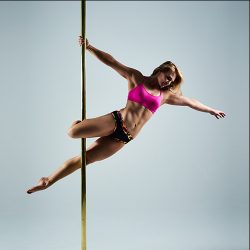 Naomi aka Nomes
Naomi, also known as "Nomes" or "Nomi", started pole as a fun girls night out in 2014, fell in love with it and has been doing pole fitness ever since.  In 2015 Nomes started pole competition training and by February 2016 she had won her first title as the Pole Expressions (state amateur competition) Open Women's Champion.  Since then, Naomi has started teaching pole at multiple studios in Brisbane and is absolutely loving it!
What can Naomi be found doing most often at the studio? Conditioning. I love conditioning.
What does Naomi love most about being a teacher at The Pole Gym? It's an amazing feeling to see my own students progress and nail things they never thought they could. It's very rewarding for me, and a blessing to be a part of their journey.
What is Naomi's number one reason you should join the pole gym Brisbane City? It's fun! There aren't many avenues of fitness that are as much fun as pole dancing. It's a fantastic way to stay fit and have fun at the same time.
What is Naomi's number one tip for when you're just starting out? Don't give up. Sometimes a particular trick can seem out of reach. But we all have nemesis tricks, and we all have to do the hard work to finally get them… and when you do, it's the BEST feeling of accomplishment.
Ruth
Ruth started pole in 2011 at The Pole Gym Brisbane City and has been part of the studio family ever since. After completing her in house instructor training as well as her fitness qualifications, she is now one of our most highly regarded instructors.
What can Ruth be found doing most often at the studio? I'm partial to the Pole Classic style of pole fitness and love teaching anything in heels.  I also have a particular soft spot for helping students who struggle with their pole tricks or who generally take a little longer to get the hang of things.
What does Ruth love most about being a teacher at The Pole Gym? I love seeing the excitement in our students when they learn a new trick or find that they can do something they hadn't thought they were capable of doing. I also love seeing people getting stronger and more confident – and appreciating their body for what it can do, not just how it looks.
What is Ruth's number one reason you should join The Pole Gym Brisbane City?  Because it's genuinely a lot of fun, and it's addictive!
What is Ruth's tip for when you're just starting out? Have an open mind – and don't assume you could never be good at it! You might just surprise yourself.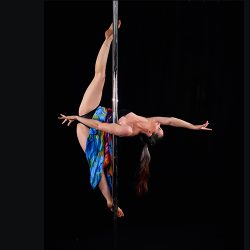 Stevie
Stevie has been poling since 2007 and teaching at The Pole Gym Brisbane City Studio since 2010. After completing her instructor training, Stevie has dabbled in pole competitions, performances, choreography and curriculum development. Often booked out for private lessons as well as her course classes, the studio wouldn't be the same without Stevie.
What can Stevie be found doing most often at the studio? Most often you'll find me in the studio helping students perfect their tricks or bring out their inner rock goddess in performance! Occasionally you might spot me spinning or hanging around in a twisted position, working through tricks breakdowns for our advanced Graduate students! Don't worry though! There's lots of preparation and training before you face those crazy challenges!
What does Stevie love most about being a teacher at The Pole Gym? Pole fitness is awesome for physical fitness, but what I love most about pole dancing, both for myself and my students, is seeing my students really nail a trick for the first time; whether it's that first controlled climb or a powerful shoulder mount; nothing beats the high of executing a new trick really well!
What is Stevie's number one reason you should join The Pole Gym Brisbane City? If you've ever thought about trying pole dancing, rock on down to TPG City studio. We're a community of lovely open people and you're welcome to come and pole with us!
And Stevie's tip for when you're just starting out? We don't pole dance because we're strong; we get strong because we pole dance!
Tami
Tami is our head instructor of Lyra (Aerial Hoop) at The Pole Gym Brisbane City. Along with the wealth of aerials experience and knowledge Tami brings to Lyra classes, she also teaches some of our stretch, conditioning and acro classes.
Tami started lyra over 13 years ago and has been working professionally as an aerialist for most of that time. She joined a travelling circus when she was 16 ("yes, I literally joined a circus!") and taught herself for the first year. After two more years, she moved back to Brisbane and has been based here since. She is the owner/performer/creative director of Aerialicious and works with a wonderful team of talented artists (including fellow The Pole Gym instructor Mayu).
What can Tami be found doing most often at the studio? You will normally see me dangling from that hula hoop looking thing that hangs from the roof aka Lyra!
What does Tami love most about being a teacher at The Pole Gym? I have been teaching lyra classes at The Pole Gym Brisbane for over 5 years. I love teaching pole students Lyra as they are always enthusiastic and willing to give it a go!
What is Tami's number one reason you should try Lyra at The Pole Gym Brisbane City? Lyra is very complimentary to pole and many things transfer over. It has its differences and new challenges too! And I can always make things harder (mwahahaha). That said, it is also great for those just starting out as there are plenty of easier moves to work on while you build strength.
And Tami's tip for when you're just starting out? Just give it a go! Love it or hate it I promise you will have fun and get a great workout. Oh and bring long pants!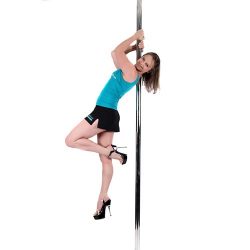 Tiff
Tiffany Downes has over a decade of experience in the pole industry.  She started out as a student with no dance or gymnastics background, fell in love with the sport, dedicated lots of time and energy to her passion and soon trained to become an instructor.  Over this time she has been lucky enough to perform and teach classes all over Australia as well as overseas.  Also a qualified fitness instructor, Tiff currently teaches at several studios around Brisbane and is a very much loved teacher at The Pole Gym Brisbane City.
Tiff is also very well known for her work as part of the dynamic pole duo "Enchanted". Ruth Mansfield is the other half of the doubles team, and occasionally we are lucky to have Ruth teach at the studio as well!  Enchanted's titles include:
2016 Queensland Pole Performers of the Decade
2015 Paragon International Pole Championship Doubles Champions
2015 Pole Candy Pro Doubles Champions
2013 International Pole Championship Ultimate Doubles Champions
2013 Australian Pole Fitness Championships Open Mixed Pairs Champions
2013 Queensland Pole Championship Group Division Winners
2013 Miss Pole Dance Australia Doubles Champions
2012 World Pole Sports Doubles Champions
2012 International Pole Championship Doubles Pole Fit Champions
2012 1st runner up – Australian Pole Fitness Championship Open Mixed Pairs'
2012 Miss Pole Dance Queensland Doubles Champions
2011 Asia Pacific Pole Dance Open Pairs Champions
2011 Pole Candy Semi-Pro Doubles Champions
Enchanted are also proud brand ambassadors for X-Pole Australia
What can Tiff be found doing most often at the studio?
Teaching tricks, though I love to dance I wouldn't say I'm a natural at it.  I'm a stickler for tricks technique and love helping to troubleshoot and put the puzzle together to help people achieve their tricks and reaching their full potential.
What does Tiff love most about being a teacher at The Pole Gym?
I love seeing people achieve things they never thought would be possible for them.  Pole has no barriers.  Over the years I've been fortunate enough to teach people with vision impairments, hearing impairments, Muslim women, women with only 1 arm, women in their 60's, women suffering from anxiety and depression … the list goes on and each comes with their own inspirational empowering story to share. It's a privilege to be a part of their journeys.
What is Tiff's number one reason you should join The Pole Gym?
Because you never know what you're capable of until you give it a try, and I know you'll love it!
What is Tiff's tip for when you're just starting out?
Remember that Rome wasn't built in a day.  It's okay to take your time and enjoy the journey.  Everyone gets there in the end so don't compare yourself to the person on the pole next to you, rather focus on your own journey and have fun!
Tri
Tri joined the studio in May 2018 because her local gym and yoga classes just weren't quite doing it for her. Growing up, she disliked sports and had terrible coordination, so exercising and dancing were never her forte. Somehow, pole fitness (a combination of the two) got her hooked and she can't keep herself out of the studio.
What can Tri be found doing most often at the studio?
Ideally conditioning and splits training but realistically, procrastinating by talking to other dancers and fluffing/moo-ing around with her doubles partner Helena Fox.
What does Tri love most about being a teacher at The Pole Gym?
Going back to basics! By teaching and breaking down tricks I am re-learning the proper muscle engagement and technique, improving lines and transitions. It also gives me a chance to train my less preferred side. Not to mention sharing my knowledge with appreciative and motivated students, I love being a part of their pole journey!
What is Tri's number one reason you should join The Pole Gym Brisbane City?
The studio has a very "family" vibe to it; the instructors and students are super approachable. We support, encourage, teach and learn from one another, and we have heaps of fun outings together (involving a lot of splits in public).
What is Tri's tip for when you're just starting out?
Do ask questions and practise outside of your class hours. I am all about injury prevention and I have worked with countless physios/chiros/massage therapists/acupuncturists/osteopaths and trust me when I say, prehabs and rehabs are the most important element in my training. Get to know your body, train smart rather than hard, give your body lots of love and recovery time because pole is a really tough sport. Finally and most importantly, do not compare your journey to anyone else's. People come from varying backgrounds and your pole journey should be something special and somewhat personal to you.